Many shooters have a strong preference about…well, pretty much everything. And that goes the same for what type of ammunition they shoot.
Brass ammo is one of the most common types of ammunition available. However, is it really the best? Especially when you compare it to steel ammunition?
Like anything, brass ammo has both costs and benefits. That's why, as the shooter, it's your job to decide if these are the ones you want to be shooting with your favorite firearm.
Nothing's perfect. However, after considering some of the major benefits of brass ammo, it's admittedly difficult to make the counterargument that other types (like steel) are better.

Brass Ammo Is Outpacing Steel Ammo In These Areas
Brass Seals Well And Runs Clean
Brass is generally known among shooters to be a great type of ammo. That's because it makes an effective chamber seal. This is important, because this means there's less blowback occurring into the chamber and receiver.
Brass is good for creating this seal, since it's more pliable than other materials (like steel). This allows it to expand, and tightly fit around the chamber walls. This also helps there to be less gas and unburned powder that moves back into the gun whenever you fire it.
In the end, brass makes it so that there's much less carbon buildup than other materials. This helps ensure the firearm (and the ammo) can remain reliable and functional long-term.
In contrast, steel is less pliable, and therefore makes a poorer seal. As a result, this makes the ammo run a higher risk of obtaining carbon buildup. This buildup can lead to malfunctions, and less reliability.
Brass Is Reloadable
Since brass is so flexible, it's much easier to reshape it to its original dimensions and reload it (aka "handloading"). This process is known as "resizing the case."
Below is a picture to help explain this process. As the picture shows, the malleability of the brass allows for this resizing. Other materials, such as steel, are less flexible and therefore are not reloadable (at least not safely).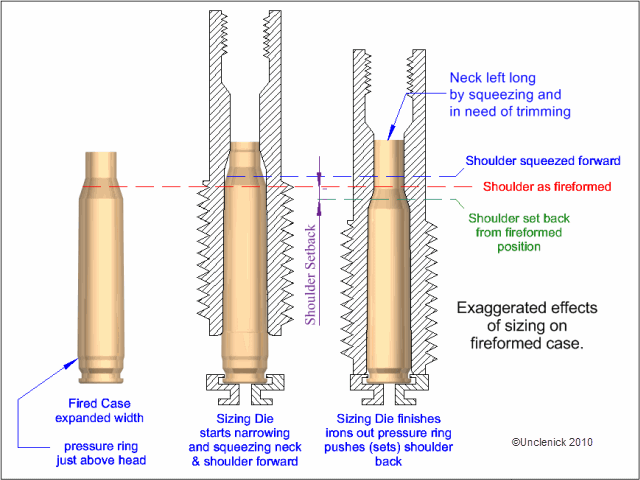 Now, to be fair, this isn't a huge benefit for some people. For instance, if a shooter doesn't normally reload (aka handload) their ammunition, this won't make a bit of difference to them.
However, shooters that fire a high volume of ammunition and want to use every last dime to the furthest extent possible will appreciate this tremendously. In contrast, steel cases are much, much harder to resize.
That's because they're much more inflexible. And so, once they expand, they aren't maneuverable. At this point, you must either throw these casings away, or recycle them responsibly.
If you're desperate, you can always locate an art student. Maybe they're in the midst of making an anti-war sculpture, and you can make a profit selling these steel casings to them. However, they likely don't have much money. So you'll have to make do.
In the end, both brass and steel have pros and cons. However, the benefits of brass are hard to ignore – especially since they impact the consumer in such a positive way.